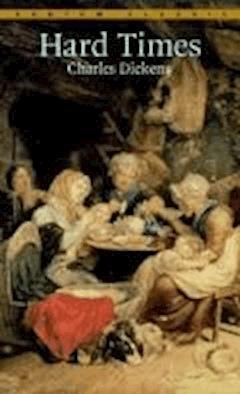 Cytaty z ebooka Hard Times - Charles Dickens
THOMAS GRADGRIND, sir. A man of realities. A man of facts and calculations. A man who proceeds upon the principle that two and two are four, and nothing over, and who is not to be talked into allowing for anything over.
Mr. Gradgrind was much obliged. 'Mr. M'Choakumchild, we only wait for you.' So, Mr. M'Choakumchild began in his best manner. He and some one hundred and forty other schoolmasters, had been lately turned at the same time, in the same factory, on the same principles, like so many pianoforte legs. He had been put through an immense variety of paces, and had answered
No little Gradgrind had ever learnt the silly jingle, Twinkle, twinkle, little star; how I wonder what you are! No little Gradgrind had ever known wonder on the subject, each little Gradgrind having at five
NOT being Mrs. Grundy, who was Mr. Bounderby? Why, Mr. Bounderby was as near being Mr. Gradgrind's bosom friend, as a man perfectly devoid of sentiment can approach that spiritual relationship towards another
Mrs. Gradgrind, a little, thin, white, pink-eyed bundle of shawls, of surpassing feebleness, mental and bodily; who was always taking physic without any effect, and who, whenever she showed a symptom of coming to life, was invariably stunned by some weighty piece of fact tumbling on her; Mrs. Gradgrind hoped
suppress the facts of his life.' Being heated when he arrived at this climax, Josiah Bounderby of Coketown stopped. He stopped just as his eminently practical friend, still accompanied by the two young culprits, entered the room. His eminently practical friend, on seeing him, stopped also, and gave Louisa a reproachful look that plainly said, 'Behold your Bounderby!'
MR. BOUNDERBY being a bachelor, an elderly lady presided over his establishment, in consideration of a certain annual stipend. Mrs. Sparsit was this lady's name; and she was a prominent figure in attendance on Mr. Bounderby's car, as
were very patient wi' her. I tried to wean her fra 't ower and ower agen. I tried this, I tried that, I tried t'other. I ha' gone home, many's the time, and found all vanished as I had in the world, and her without a sense left to bless herseln lying on bare ground. I ha' dun 't not once, not twice - twenty time!' Every line in his face deepened as he said it, and put in its affecting evidence of the suffering he had undergone. 'From bad to worse, from
'But I see thee, Rachael, setten by the bed. I ha' seen thee, aw this night. In my troublous sleep I ha' known thee still to be there. Evermore I will see thee there. I nevermore will see her or think o' her, but thou shalt be beside her. I nevermore will see or think o' anything that angers me, but thou, so much better than me, shalt
'Why, father,' she pursued, 'what a strange question to ask me! The baby-preference that even I have heard of as common among children, has never had its innocent resting-place in my breast. You have been so careful of me, that I never had a child's heart. You have trained me so well, that I never dreamed a child's dream. You have dealt so wisely with me, father, from my cradle to this hour, that I never had a child's belief or a child's fear.' Mr. Gradgrind was quite moved by his success, and by this testimony to it. 'My dear Louisa,' said he, 'you abundantly repay my
head of the table, where her youthful figure, small and slight, but very graceful, looked as pretty as it looked misplaced; 'is there nothing that will move that face?' Yes! By Jupiter, there was something, and here it was, in an unexpected shape. Tom appeared. She changed as the door opened, and broke into a beaming smile. A beautiful smile. Mr. James Harthouse might not have thought so much of it, but that he had wondered so long at her impassive face. She put out her hand - a pretty little soft hand; and her fingers closed upon her brother's, as if she would have carried them
'Oh! I don't care for old Bounderby,' said he, 'if you mean that. I have always called old Bounderby by the same name when I have talked about him, and I have always thought of him in the same way. I am not going to begin to be polite now, about old Bounderby. It would be rather late in the day.' 'Don't mind
'My sister Loo?' said Tom. 'She never cared for old Bounderby.' 'That's the past tense, Tom,' returned Mr. James Harthouse, striking the ash from his cigar with his little finger. 'We are in the present tense, now.' 'Verb neuter, not to care. Indicative mood, present tense. First person singular, I do not care; second person singular, thou dost not care; third person singular, she does not care,' returned Tom. 'Good! Very quaint!' said his
she came into them. She would do anything for me. It was very game of her, wasn't it?' 'It was charming, Tom!' 'Not that it was altogether so important to her as it was to me,' continued Tom coolly, 'because my liberty and comfort, and perhaps my getting on, depended on it; and she had no other lover, and staying at home was like staying in jail - especially when I was gone. It wasn't as if she gave up another lover for old Bounderby; but still it was a good thing in her.' 'Perfectly delightful. And she
Rachael had risen, and stood apart with her shawl and bonnet in her hand, when Stephen, himself profoundly astonished by this visit, put the candle on the table. Then he too stood, with his doubled hand upon the table near it, waiting to be addressed. For the first time in her life Louisa had come into one of the dwellings of the Coketown Hands; for the first time in her life she was face to face with anything like individuality in connection with them. She knew of their existence by hundreds and by thousands. She knew what results in work a
'When I married, I found that my brother was even at that time heavily in debt. Heavily for him, I mean. Heavily enough to oblige me to sell some trinkets. They were no sacrifice. I sold them very willingly. I attached no value to them. They, were quite worthless to me.' Either she saw in his face that he knew, or she only feared in her conscience that he knew, that she spoke of some of her husband's gifts. She stopped, and reddened again. If he had not known
fair creature's on the bark, Tom.' 'Not much of that, Mr. Harthouse, unless some fair creature with a slashing fortune at her own disposal would take a fancy to me. Or she might be as ugly as she was rich, without any fear of losing me. I'd carve her name as often as she liked.' 'I am afraid you are mercenary, Tom.' 'Mercenary,' repeated Tom. 'Who is not mercenary? Ask my sister.' 'Have you so proved it to be a failing of mine, Tom?' said Louisa, showing no other sense of his discontent and ill-nature. 'You know whether the cap fits you, Loo,' returned her brother sulkily.
discontent and ill-nature. 'You know whether the cap fits you, Loo,' returned her brother sulkily. 'If it does, you can wear it.' 'Tom is misanthropical to-day, as all bored people are now and then,' said Mr. Harthouse. 'Don't believe him, Mrs. Bounderby. He knows much better. I shall disclose some of his opinions of you, privately expressed to me, unless he relents a little.' 'At all events, Mr. Harthouse,'
brother sulkily. 'If it does, you can wear it.' 'Tom is misanthropical to-day, as all bored people are now and then,' said Mr. Harthouse. 'Don't believe him, Mrs. Bounderby. He knows much better. I shall disclose some of his opinions of you, privately expressed to me, unless
'Well, Mr. Harthouse, I know I have. How else was I to get it? Here's old Bounderby always boasting that at my age he lived upon twopence a month, or something of that sort. Here's my father drawing what he calls a line, and tying me down to it from a baby, neck and heels. Here's my mother who never has anything of her own, except her complaints. What is a fellow to do for money, and where am I to look for it, if not to my sister?' He was almost